This is modeled source contributions to the ambient particulate pollution (PM2.5) in South Delhi district (one of the 14 districts in the National Capital Region (NCR) of Delhi). The calculations are conducted in forecast mode. More NCR district reports @
Delhi Air Quality.Info
TRA.PASS = pollution from passenger vehicles (2Ws, 3Ws, 4Ws, Taxis, and Buses) including vehicle exhaust and associated resuspended dust

TRA.FRGT= pollution from freight vehicles (heavy and light trucks, and non-road vehicles) including vehicle exhaust and associated resuspended dust
RESI = pollution from domestic cooking, space heating, water heating, and lighting
IND.BK = pollution from industrial activities and brick kilns
PP.GS = pollution from power plants and in-situ diesel generator sets

BDY.INTRU = pollution linked to boundary conditions, in other words, pollution from outside the 80 km x 80 km modeling domain; which is calculated from a simulation over the Indian subcontinent, including the anthropogenic emissions, seasonal fires and dust events (calculated based on the most recent satellite data), and other natural sources
OTHERS = pollution from open waste burning and construction dust
A number of source apportionment studies were conducted in Delhi (more in Delhi than in any of the other Indian cities). We summarized the known particulate pollution source apportionment studies, as an open article, "
what's polluting Delhi's air
". A snapshot of the shares from one of the studies is presented below.
The modeled particulate pollution in the forecast mode for the next three days is presented in the animation below. Similar animations and daily average concentration maps for all the criteria pollutants are available @
Delhi Air Quality Info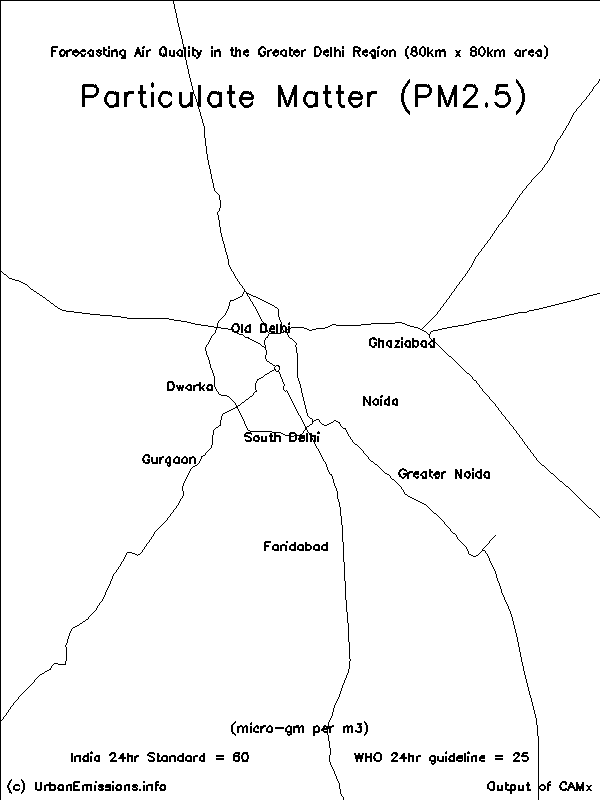 See what is happening at the regional scale, which is conducted as part of the all India air pollution forecasting program, hosted @
http://www.indiaairquality.info
. The animation below is from a WRF-CAMx simulation conducted @ 0.25x0.25 degree resolution (approximately, 25km x 25km).
The pollution patterns change every hour and every day, depending on the prevalent meteorological conditions - wind speed, wind direction, temperature, and precipitation. Under windy conditions, most of the emissions get dispersed to farther places; Under rainy conditions, most of the emissions get drained out. Want to see how the weather pattern is holding up for the next three days in Delhi. Check out @
http://www.delhiairquality.info
. Below is an animation of the anticipated wind speeds and wind directions from the WRF meteorological model - also used by IMD for their forecasts.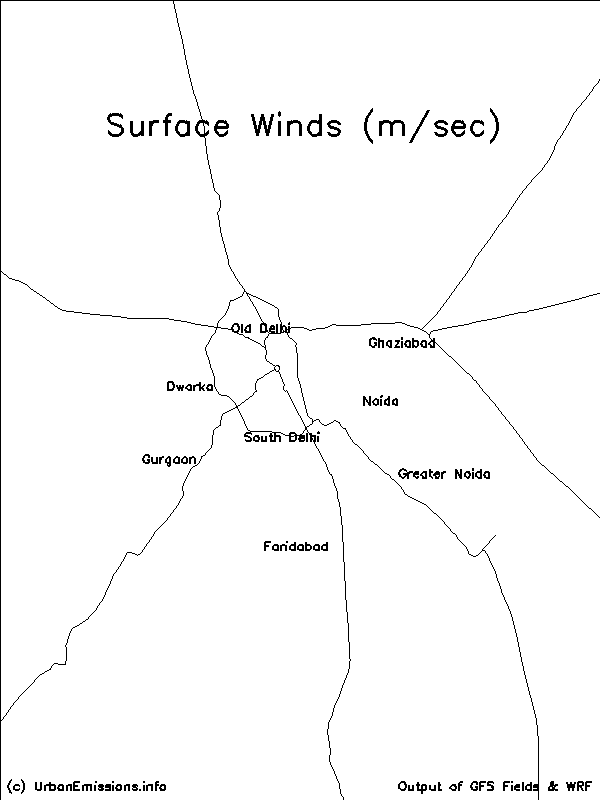 The monitoring data from the DPCC stations reported as an air quality index by AQICN is as follows for one of the stations